In the days before refrigeration and the huge food network was created, most people lived on preserved meat, dried peas and beans, potatoes, and breads through the winter months. Those that were really poor lived off of corn bread with some sort of gravy or broth. By the time early spring arrived they were suffering from various vitamin deficiencies. So they learned how to get out and forage early in the year when new plants were just appearing. They would also drink "spring tonics" brewed out of various herbs and young plants to get a shot of vitamins and other slightly medicinal compounds into their bodies.
One of the first plants to show up in spring is the dandelion. Home owners battle dandelions all summer long while trying to maintain their pristine lawns. It is a never ending battle because those puff-balls of seeds we used to make wishes on as kids spread seeds far and wide. Bad for the manicured lawn enthusiast but great for us; the plant grows almost everywhere. Dandelions are cultivated and sold in markets in Europe and even in some of the trendier city markets in the US.
Dandelion leaves are low in Saturated Fat, and very low in Cholesterol. It is also a good source of Folate, Magnesium, Phosphorus and Copper, and a very good source of Dietary Fiber, Vitamin A, Vitamin C, Vitamin E (Alpha Tocopherol), Vitamin K, Thiamin, Riboflavin, Vitamin B6, Calcium, Iron, Potassium and Manganese. This plant is so high in nutrients that it really should be categorized as a "super food".
Go to this site to see the full nutritional breakdown on this food.
http://nutritiondata.self.com/facts/vegetables-and-vegetable-products/2441/2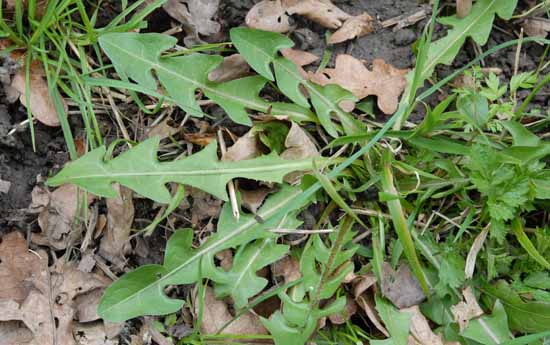 Most parts of the plant are edible at various stages of their life cycle. The leaves are the most commonly eaten part of the plant so we'll start there. The jagged leaves have a slightly bitter taste when they are very young, sort of like endive. As the plant ages they get even more so and once the flowers blossom they are too bitter to eat raw. Gathering dandelion is easy enough; just take a small knife and a container and go for a walk anywhere that weeds grow; just make sure you are in an area where pesticides and herbicides are not used. The little clusters of jagged leaves are easy to identify. Cut the new, tender leaves off at the base and once you have as much as you want take them home and give them a good rinse in cold water. Dandelion leaves can be mixed into your store-bought salad fixings just as they are and they will add a huge boost to the nutrition level of your salad. In my home area dandelion greens are most often eaten with a hot bacon dressing. The recipe is below.

Fiddlehead Fern Nutrition Label

Wild Onions. When I was a kid we used to break off the tops of the plant and smell them. It was a strong cross between onion and garlic smell. We used to chew them and then breathe in each other's face. Wow, did they have a strong smell or what?
Wild onions also grow almost everywhere. You'll see bunches of the little plants clustered in yards and other open areas (parks, ball fields, along walking paths).
Clusters of Wild Onions



These plants can be used just like you would use spring onions or scallions. They are very strong flavored so a little goes a long way. Add them raw to salads or use them to cook. There are many Wild Onion fund raising festivals and mostly they cook them up in omelets. All parts of the plant can be eaten, just like a cultivated onion.
Wild Onions can be used as a very stinky but effective emergency bug repellent. Just crush up a handful and rub the juices on any exposed skin and it will keep the mosquitoes, gnats, and other humans away.
These plants can help you stretch your food dollars by replacing store-bought greens and they are so high in nutrition that they can rectify a vitamin-poor diet caused by not being able to afford the veggies you should be eating. These plants will get you going in the spring after the last of your stored garden produce is gone.